12 years
of sucessful
trading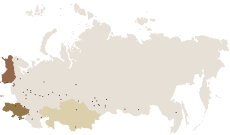 Our stores
All over the world
5 countries / 78 stores/ 34 cities
Ounce is a Russian full service wholesaler and retailer of fine tea and coffee products. The company was founded in 2002 in St-Petersburg as a single tea boutique offering loose leaf tea, coffee, teaware and confectionary. High quality products, customer care and unique shopping atmosphere helped the store to stand out in the market.
The retail format attracted more and more loyal customers leading to creation and rapid expansion of the chain of tea boutiques, at first, in St-Petersburg and Moscow and then throughout Russia and in the neighboring countries using the franchising approach. Along with retail business growth the company successfully developed the wholesale department Vintage focused on providing specialized stores with high quality tea. Nowadays Ounce is a leading provider of fine loose leaf tea, coffee and accessories both for retail and b2b customers.   
Saint-Petersburg
Ltd. "The partnership tea merchant"
Actual & Post Adress:
190121, St. Petersburg, street. Perevoznaya, 8
Phone:
+7 (812)

no skype addon

325-58-86 (ext. 305)
Fax:
+7 (812)

no skype addon

325-58-86 (ext. 101)
Working Days:
Monday — Friday
Working Hours:
10: 00 to 18:45
Actual & Post Adress: street. Solyanka d 1/2 str.2
Phone: +7 (495) 625-45-47
Working Days: Monday — Friday
Working Hours: 10:00 to 18:45